Some reflections on 2020. This is a 6.5 minute read.
I'm sitting here on my couch in my living room with snow piled up on the balcony outside my window. It's the third year I've been living in this apartment, and I'm starting to feel like it might be time to spread my wings and move sometime soon. I associate this place with a lot of beautiful memories, some challenging ones, too, but mostly with many things I've chosen to let go of as I've grown and changed through the years. It's time.
2020 was a year of letting go. I think that year turned out nothing like what any of us thought it would, although when I looked back at the beginning of the year, I realize some part of me might've already known.
I didn't set any intentions for 2020. To be clear, this is a little unusual for me – I don't remember the last time I didn't set intentions for the year ahead, at least in some form or another. Since I was a young teen, I've been all out into vision boarding and goal setting and planning my life to a T. Most of the time, my goals haven't worked out the way I'd intended, and I think in time, this has made me a little wary of setting goals at all. In recent years, my life has turned out more beautifully when I've gone with the flow and followed the subtle nudges of what called to my heart, so it's no surprise I felt this way when 2020 began. I'd had ideas for projects, sure, but no grand vision, no overarching themes beyond this one word: clarity.
I definitely received it, if not in the form I thought I would.
It's no surprise I chose this word to define my year. Last year, I kind of hit the ground running, already exhausted halfway through January and feeling a bit off about where I was at. I'm not generally an anxious person and yet at this time last year, I was plagued by it. I felt like I didn't know where I was going and what I was doing yet I was putting all this pressure on myself to figure it out and have a plan. It turns out I was just looking in the wrong places for guidance as to where I might go next. I was looking to the wrong passion to guide me.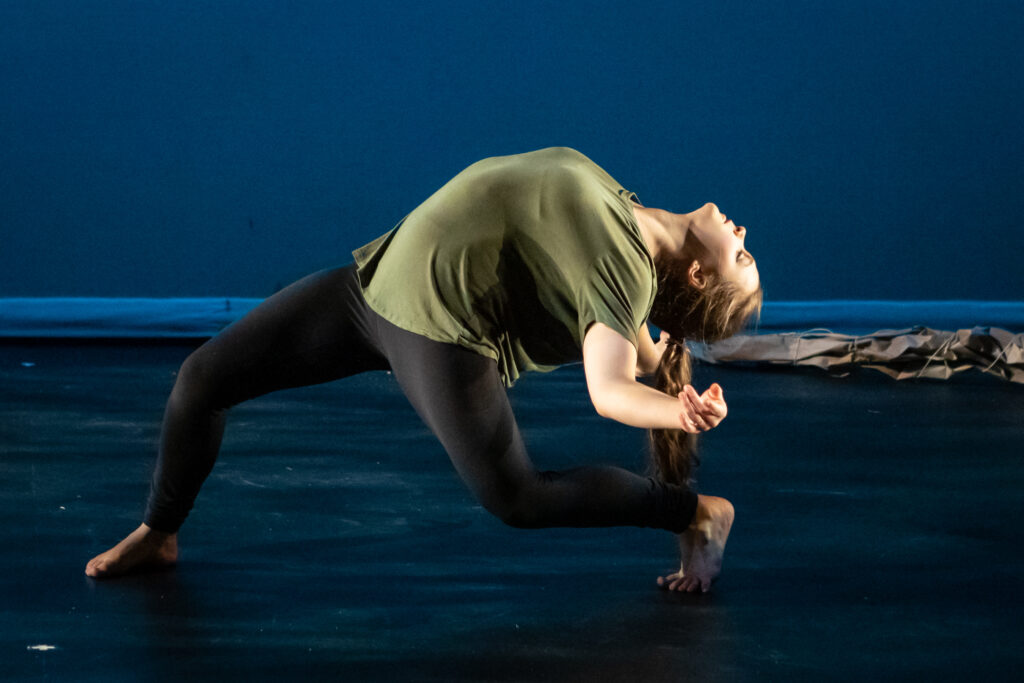 I love to dance. Movement has been one of the great love affairs of my life, and dance has always been there in the background as I've moved through different disciplines over the years. I was dancing as a gymnast, dancing after I tore my ACL and moved on to focus on the circus arts. Ballet, hip hop, contemporary, contact improv – these forms have always supported my 'main thing.' It wasn't until 2018 when my focus shifted more wholeheartedly to dance, and I fully fell in love.
The other great love of my life has always been writing. Always. Words have accompanied me almost everywhere I went. When I didn't know what to do next, I'd write about it. When I had free time, I'd write about life. I was always writing poems in the shower, writing stories on weekends, creating short poetry books and hand lettering quotes in the in-between spaces of my everyday life. I've always identified as a writer but writing never got my full attention – there was always something else to pursue. I knew I'd always find time for writing, I'd even dreamed of publishing books, yet I never thought it could be my 'main thing.'
2020 gave me that clarity. With all the other distractions stripped away, I was left alone to create art in my small apartment somewhere on the eastern side of Montreal. So what did I do?
I began to write.
It's funny how life can assist us in seeing what has been right in front of us all along.
This was one of my big 'revelations' of this year, I suppose. That there is nothing wrong with building a life to suit the intricacies of who you are, that there's nothing wrong with living a quiet life and actually, in many ways I prefer it. I thrive when given time to fill on my own and I really enjoy having the freedom to set my own schedule. I'm entering 2021 with this new foundation I've built over the past year and a stronger sense of where I'm headed. Even if I can't quite articulate it yet.
Yesterday I spent a few hours journaling about all of this, about everything 2020 held, and all the lessons I'd like to bring with me as I continue on my path. It made me look up and realize just how much I've lived through in a year – a lot – and a few of the lessons surprised me.
It's okay to acknowledge when things are hard, even if there is gratitude and beauty to be found in those spaces of break down and healing. If you don't see the grief, if you don't give yourself moments to fall apart, the pain only grows heavy. You carry it with you and never fully move on from the thing that hurt you. Some part of you may even grow resentful, both of yourself and the people you love. Let yourself have your hard moments – it doesn't make you any weaker if you need to cry. In fact, holding space for the parts of yourself that are hurting is one of the strongest things you could ever do.
This one is pretty obvious. I think most of us experienced some challenge or another this year, whether it was living for long periods of time without any real-life interaction and physical touch (raises hand) or losing someone you loved, 2020 was hard. It's okay to admit that.
When I began my process yesterday, I realized I hadn't given myself much space to feel just how hard 2020 had been. I considered myself lucky and so I didn't really feel like I had the right to complain. Even so, there was a part of me that acutely felt the pain of everything I went through this year and not giving myself the space to feel that wasn't fair.
Yes, so many beautiful things happened this year. I found a new community, I grew closer with my mom, I even published a freaking book. But 2020 was still hard. It's okay to admit that. I had to remind myself of this, too.
The things that come naturally to you do so for a reason. We so often take for granted the work we do out of love, the things we do for free without the need for anyone to acknowledge what we've done. We don't value it as much as the things we've had to work hard for because to us, it feels natural – like breathing. This work, this skill you've developed and taken for granted, it may just be the work you're meant to share with the world. Don't forget to acknowledge its value. You never know what will happen if you have the courage to share it.
This was a big lesson for me – owning my value. In June, I began a course with an energy intuitive, Lee Harris, titled Own Your Value. I didn't know much about the course when I began, other than that I enjoyed Lee's work and for whatever reason, I felt a strong calling to take this course. It was one of the best things I've ever done for myself, in many ways a gift that keeps on giving. The work I did over the next few months opened doors I'd never seen before in the most magical way.
The lesson here was pretty clear: your work is needed in this world. Our life, our work can actually feel easy. We don't have to fight against our instincts or the things we perceive as weaknesses, like introversion or sensitivity. Sometimes the things we are fighting to accomplish feel hard for a reason and our 'weaknesses' are actually our biggest strengths.
When you grow, not everyone will come with you – that's okay. Friendships can be beautiful for a finite amount of time. When people leave, sometimes they're just not aligned with where you're going. You can love and cheer them on from afar.
I had to let go of a number of friendships this year and it wasn't easy. Grief is never an easy energy to deal with, and it looks different depending on the situation. Some of my grief was because I chose to walk away from people I'd walked beside for the last few years of my life, and some of it came from change – one of my closest friends moved back to her home halfway across the world. We're just as close as ever, it's just different.
Some of my grief, too, came from grieving pieces of myself I've outgrown and moved on from. Identities, roles within my family, ways I've related to others and how I've thought about myself. I've grown in the most beautiful ways this year, and yet there is still grief because where there is change, there is a letting go. Some form of grief often follows.
The thing about letting go is that it requires acceptance. Letting go isn't so much something you 'do' as the practice of holding space for all that is.
If there is one idea I would invite you to explore as we step into this new year, it would be this. We cling to the familiar because it keeps us feeling safe. We know our stories about the way things have always been like we know the back of our hands, and yet familiar and safe are not always the best things for us.
A couple of years ago, I was standing in my kitchen reminiscing over someone I used to love and was trying to stay friends with at the time. I think my feelings about the situation had been complicated since the start, and I knew what the solution would be, I was just too afraid to act on it. At that moment, some words popped into my mind, and I promptly wrote them on a sticky note that lives on my wall to this day:
Where are you clinging to shadows that feel safe in fear of what the light may have to show you? Where are the spaces in your body that feel heavy from a past containing challenge and loss? What are you ready to let go of, as we step into this new year and beyond?
I invite you to reflect on this year before you begin writing the next chapter. You may be surprised by what you find.
As we head into 2021, of course there is no way of knowing exactly what we'll find. But I have to admit, I'm feeling a little excited. It'll be an adventure. I wonder what stories and lessons I'll be telling you about at this time next year. Whatever this next chapter has in store, I know I'm walking into it with a lot of love.
Let's make it a good one xx
If you're looking for some tools to support you in the new year, you may enjoy my short book, Just Breathe: Eleven Mantras + Tools for Heart Healing. You can find out more here.